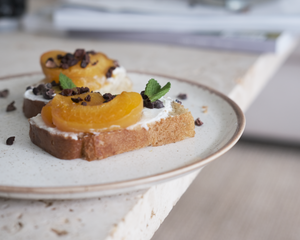 Galvojate, ką gi įdomaus nuveikti su skaldytomis kakavos pupelėmis? Siūlome išbandyti keptus abrikosus gardintus kakavos pupelėmis. Šis užkandis subtiliai dera su natūraliu kakavos skoniu, švelnia rikota ir gaiviais abrikosais. Ypatingas, įdomus ir abejonių nepaliekantis derinys paprastame recepte! Jums reikės:● 1 šaukšto skaldytų kakavos pupelių● 5 vnt. abrikosų● 1/2 apelsino ● 2 arbatiniai š. cukraus pudros● 50 gr rikotos sūrio● kelios riekelės mėgstamos baltos duonelės● papuošimui: mėtų (nebūtina)Apie kakavą dažnai galvojame kaip apie gėrimą, tačiau būtent čia į sceną įžengiaskaldytos kakavos pupelės, kurios dera prie įvairiausių skonių ir veda link kulinarinių šedevrų. Ar tai būtų saldu, ar rūgštu, ar sūru, šis akcentas gali padėti išreikšti skonio subtilybes. Mums labai patinka...
---
You can create your own ritual at home using the appropriate traditional tools and high-quality ceremonial grade matcha. Here are some tips you may need to prepare your ceremonial Matcha tea:  - Matcha tea powder  - Hot water (70 - 80 degrees) - Bamboo whisks (you can also use an electric whisk) - Strainer(optional) - Bowl - Your favorite cup Ceremonial Matcha Tea Recipe SIFTING Part of making a delicious cup of matcha is sifting the powder. Sifting will ensure that there are no lumps in the matcha tea.  BOILING WATER Boil water and cool it to 70-80 degrees. Pour...
---
Ingredients- For yeast dough: 7 g of active dry yeast  1/3 cup warm water (about +40 C)  40 g of melted butter  3/4 st. warm milk (about +40 C)  40 g of sugar  400 g of wheat flour  1 egg  a pinch of salt - For the chocolate Nutella cream: 1/2 cup peanut butter. 30 g. Madagascar cocoa mass 2 tablespoons sugar Making: Dissolve yeast in warm water until foamy. In another bowl, pour milk, melted butter, egg, salt, foamed yeast with water. Knead the dough for about a few minutes. Shape the dough into a ball and place in...
---
With the trip to Japan but a distant memory, it's time to reminisce and share what wonderful experiences we had while there. Matcha Tea Farm Matcha Tea Farm Located in the Kakegawa area, a wide river valley framed by forested mountains that descend into gentle hills. The mineral-rich soil and rainwater from the foothills of Mount Fuji create ideal growing conditions that give Matcha tea its famous balance of sweetness and umami. The owners of the farm, like all Japanese people, were extremely helpful and kind, they explained the entire cultivation process. The subtleties of growing matcha tea Growing matcha...
---
With the long-awaited spring comes the refreshing salad season! The combination of arugula, pear, goat cheese and cocoa nibs may sound unusual, but one bite wins over taste buds. Salad Dressing Recipe:50 g honey50 g mustard50 g lemon juice50 g olive oil0.5 teaspoon salt1 pinch ground black pepper.Instructions:Whisk all ingredients together in a small bowl (or shake all ingredients together vigorously in a sealed jar) until completely combined.Salad recipe150 g arugulaPear50 g Goat cheeseA handful of walnutsA pinch or 2 of cocoa nibsInstructions:In a pan toast walnuts and let it cool. Make a bed of greens on a plate.Top with the pears, walnuts,...